10 Effective Tips for Designing an Excellent UI for Mobile Apps
What Would Be Your First Assessment For Any Mobile App?
Of course, the user interface and experience are the essential aspects for a mobile app and based on these primary aspects only, anyone will judge your app. No matter how much functions and features it offers to the end user if your app fails to catch user attention there will be down votes for your mobile app design which will further affect other positive points or perks of your app.
As the number of mobile apps being introduced in-app market is drastically increasing day by day, there will no worth of your app, if it falls short to satisfy the customer or match the market competition. Amazing UI mobile apps can surely succeed in impressing users and creating a bigger user base. Overall, if you want to make your app capable of sustaining in a vast crowd, the ultimate option is designing a mobile application in a stunning and professional way.
So What You Could Do To Improve Your Application Interface Designs?
No need to worry, we are here to help you out with 10 most efficient mobile app design tips and tricks that will assist to create absolutely eye-catching application interface designs.
Check the List,
Apply the Interaction Design Rules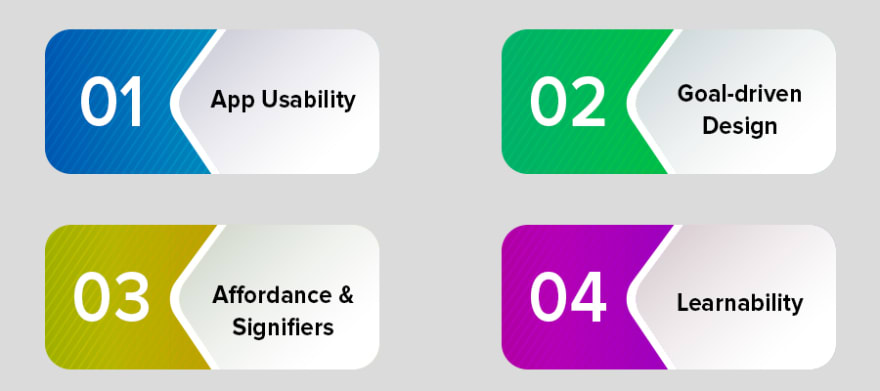 Though you don't have as much of screen space still you can consider the rules of good interaction design. You can apply the interaction design rules like:
• App Usability: Usability is what makes a product worth of use, thus the first thing you need to keep in mind is to make you're app usable so that user will like it and download it.
• Goal-driven Design: Converse with the intended users of the app, and create precise goals for your users and tailor your app's design to match their requirements.
• Affordance & Signifiers: The affordance is the function and signifiers intimation at affordance. Ensure to use signifiers properly so that users don't have to think what each UI element does.
• Learnability: Common patterns assist a new user to easily get used to an app. thus try to use familiar design patterns so that users can instinctively identify how to use an interface.
Always Keep Users in Mind
Ahead of developing or designing a mobile application, you must have to know the potential users well. It is always better to consider real users for their opinion and ideas. This will aid to efficiently assess what to add and what to ignore. Try to get in touch with the potential users at an early stage so that there will be no unnecessary effort and confusion for the designing the features. Such an approach will diminish the need of re-working and surely save on a much of the money and time.
Provide Necessary Information
When you ask users to input data into the app, make sure to give proper information to the users essential for them to make a right decision regarding what action to take. If your apps interface design fails to provide that information at the exact position where you are prompting users for input, they may decide to cancel out and navigate return. Thus in order to save users efforts, make the necessary information available at the place where a decision is to be taken.
Ensure Full Responsiveness
Application interface designs should be in the way that the app is usable on multiple mobile operating systems and devices. Whether it is modifying the JavaScript, media queries, or CSS, all the issue related to the display of the app on multiple devices should be furnished responsibly.
Focus on Button Sizes
Usually, whenever we need to add some extra into the app, we consider shrinking the button or font sizes to some extent. Well, to be clear this is a quite slippery and dangerous slope. If you have ever attempted to use a web page on a Smartphone which actually wasn't designed for mobile, you are familiar with the frustrating experience of zooming so that you can click on the right hyperlink. And when it comes to an app, it's even more difficult since the user doesn't have the choice to zoom in. To avoid all this, try to keep your button sizes large enough and test your app on a small screen Smartphone's like an iPhone 4 to ensure it's still easy to use.
Place Tabs in the Right Place
Things are different for Android and iOS. On iOS, the primary tab navigation not actually appears like tabs. In fact, they are icons placed at the base of the window that a user makes use of to switch between main topic areas of the app. Android users prefer this function at the top of the screen, whereas iOS users don't. In Android, the tabs are generally located at the top of the app and able to scroll left-right. If your app depends on a tab concept as a primary navigation, then the key thing to remember is to place the tabs according to the iOS or Android devices.
Consider the Format
Of course, there are apps that take too long for loading any large graphics file. And this is not due to the incorrect size but because of an unsuitable format. Android is compatible with media formats like JPEG, PNG, BMP, GIF, and WebP. PNG format is suitable for lossless images while JPEG is preferred for tweaking. While designing a mobile application, you must have to consider proper file format that is well suitable to the devices the app will be used on.
Prefer Beta Testing
Beta testing is always a good choice to evaluate apps interface design. Once your app is all set, it should undergo some beta testing with unidentified users who possess the least idea for the app goals and designs. By presenting the app to the users, you will draw some unexpected issues that need to be tackled ahead of publishing the app.
Try Popular Icons
From the past few years, there has been an overabundance of icons that have engaged a comfort zone among the users. The users are quite accustomed to the functions of these icons and many of such icons are present on different gadgets these days. If you desire your UI to be excellent, attempt to palace these prominent icons in your app and put in an instinctive aspect to it. However, if you want to introduce new icons, then ensure to mention its function together with the icon for more clarity.
Enlighten with Colors
While working on mobile app design for your app try to use slight animations to transit among screens and implement UI control color demarcation so as to inform the state of alterations in the app. Such a strategy gives a specialized touch to your app. For example, if a screen becomes lighter during activities, the screen transitions will not appear extremely loud. After the click, if there is a modification in the color of button control, then it will indicate that a user action has been made with a certain goal in mind.
Conclusion
Myriads of apps on the app store are just not up to the mark to satisfy user needs and thus tend to be unsuccessful. If you don't want your app to fall into this category, then it's highly essential for you to follow proper apps interface design guidelines and make the UI absolutely stunning and user interactive. And we hope the above-motioned UI design tips will help you to achieve the same. Further, if you encounter the task of designing a mobile application somehow difficult, just contact our experts and discuss your app design and development requirements so that they will help you ahead.